I hope y'all had a great weekend. Mine included a bonfire, making apple cinnamon scones for a baby shower, homecoming dress shopping and making oodles of cupcakes for a certain girl who turns 16 today.  I also thought about…mason jars!!
Mason jars are all the rage these days. In fact, at a recent wedding party, which was held in a refurbished barn, mason jars were the party favor.
I'm a mason jar kind of girl. In fact, the older the better. I have some of these scattered throughout my kitchen and cupboards.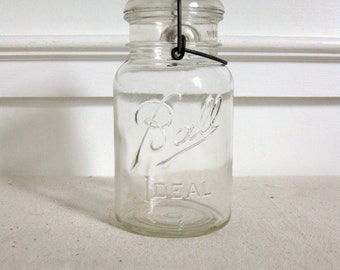 I've seen jars used for everything, including baking. I've been pretty skeptical putting jars in a 350 oven, but gave it a try this week when we had company for the evening.
The red apple peeler next to the sink has seen better days, but it sure is handy when making apple crisp. On a side note, if you've never lived or visited upstate New York, you're missing out. We live smack dab in the middle of apple country. Dozens of apple orchards dot the countryside, so apples are plentiful this year. Beak and Skiff is a favorite. In fact I just saw on their web site they are in the running for the Top 10 Apple Orchards in the country. The apples are in the bowl already to go, sprinkled with sugar, cinnamon and a dash of flour. I spy next to the paper towels the wedding party favors. The name of the couple was on the front of the jar. I spy one more jar in the corner of the picture on the right, where I store my ground coffee.
I didn't take many pictures because of my anxiety about putting jars in the oven. But as I think back to my mom's canning days where scalding jars were holding hot peaches or green beans, going into a hot oven wouldn't be a problem. These are fresh out of the oven.
The flour, brown sugar and butter melded together to make a velvety caramel sauce.  Next time I will add more apples to the jar. Yes, I know when you cook apples they cook way down. But it wasn't a problem for my guests, they just had two jars instead of one!
A big hit!